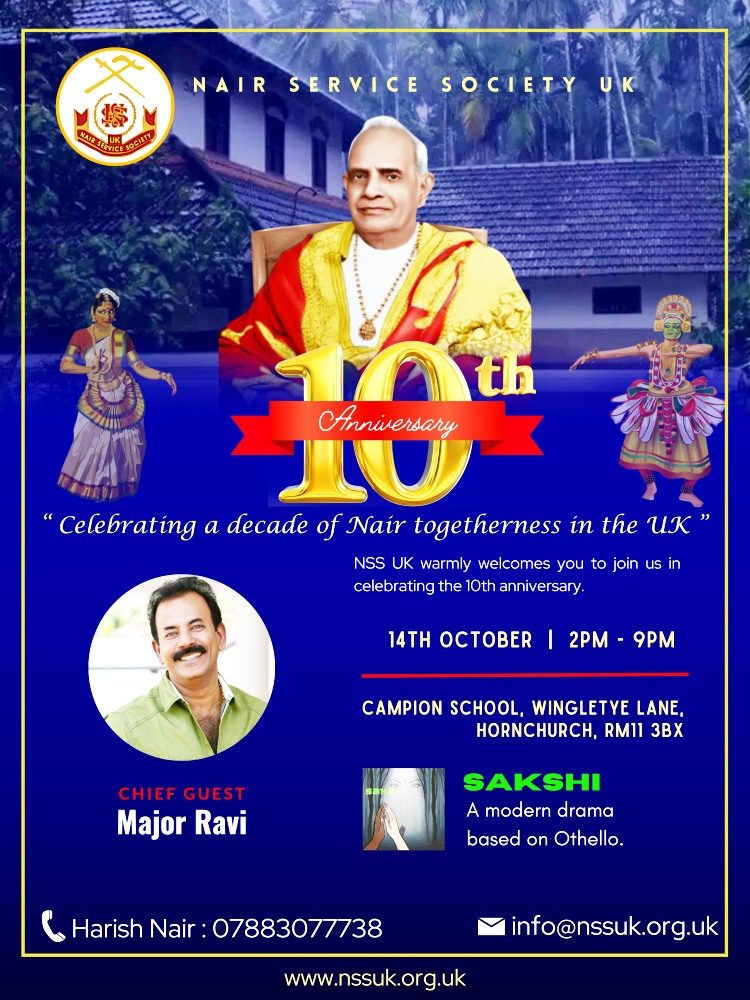 The Nair Service Society UK (NSS UK), a prominent organisation dedicated to fostering social commitment and communal harmony, is gearing up to celebrate its remarkable 10th anniversary.
Founded in 2013, NSS UK aims to promote Kerala's cultural heritage while upholding the values of its parent organisation, the Nair Service Society (NSS), which was established in Kerala in 1914.
In honour of this significant milestone, NSSUK has organised an anniversary event to take place on Saturday, October 14, 2023. The celebration will be held at The Campion School in Hornchurch, Essex.
NSSUK is proud to announce that Major Ravi, a distinguished personality in the world of cinema and a prominent Actor, Writer, and Director, will be the chief guest of the event.
Major Ravi, known for his contributions to Indian cinema and his socially relevant works, brings an inspiring perspective to the celebration.
Event Details:
Venue: The Campion School, Wingletye Ln, Hornchurch RM11 3BX
Date & Time: Saturday, October 14, 2023, from 2:00 PM to 9:00 PM
The primary objective of NSS was to uplift the Nair community, addressing their welfare needs and advancing social harmony. Over the years, NSS has expanded its scope and become a vital provider of educational and medical services in Kerala.
NSSUK is committed to preserving and propagating the values and legacy left behind by its founder Shri Mannathu Padmanabhan.