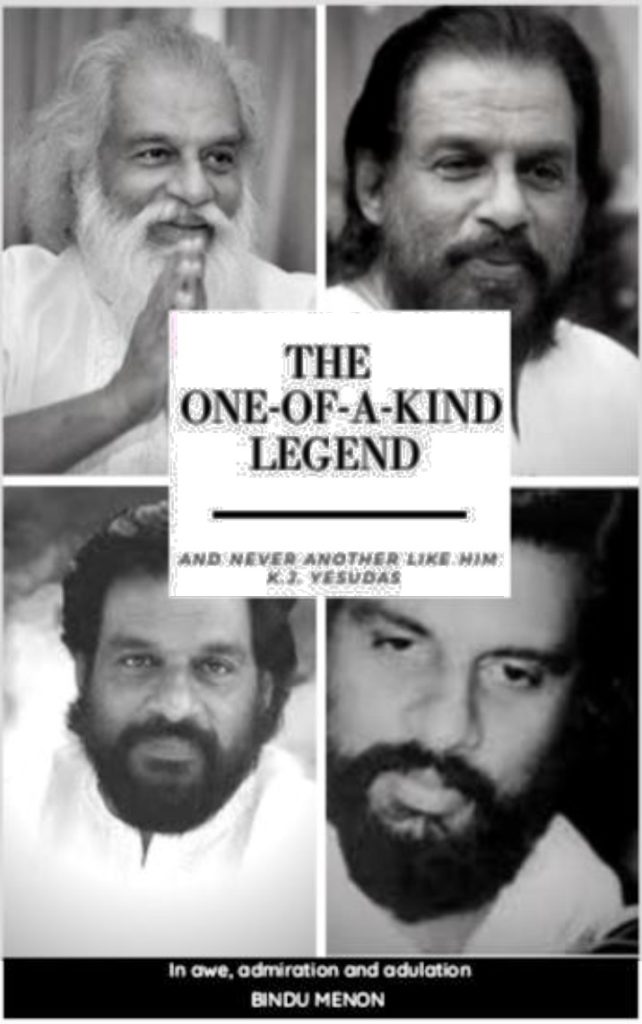 Birthday Wishes to Dr K J Yesudas, whom we lovingly call 'Dasettan'! January 10th is always special for Malayaalees and all those who love Music, because that is the special day when the Celestial blessings focussed over the house of Augustine Joseph and Elizabeth in Fort Kochi and Yesudas was born on the day of 'Uthraadam' in the month of 'Dhanu'! Yesudas is the one blessed with the inimitable voice that is uniquely tuned by God! The electrifying brilliance is such that even the seasons have sailed past by, without as much as a glance!
His dazzling voice is such that every note is interpreted and yet, there is clarity in diction, freshness and vitality, a true symphony of music: melody, rhythm and sheer magic! He has the power to stop conversation in any room, simply by entering it, and create magic with his alluringly elegant voice, which gets better and better like the vintage wine. Chempai Vaidyanatha Bhagavather honoured him with a 'Ponnaada' on the 10th day of January years ago, with these famous words, "Innu Nammude Dasinte Muppathiyanchaam Pirannaalaanu" (Today is Our Das's 35th Birthday), and I feel the seasons passed by Dasettan to honour his Guru's blessing!
Yesdas's music journey started on 14 November 1961 with the famous words of Sree Narayana Guru, for the film, 'Kaalppaadukal', the words of which are still apt! Yesudas was designated to sing another song, but as he was unwell that day, it was cancelled! I feel destiny played a part and another day was chosen by the music director M B Sreenivas for him to sing Sree Narayana Guru's famous sloka, and history was made that day!
"Jaathibhedham Mathadhesham
Ethumillathe Sarvvarum
Sodarathwena Vaazhunna
Mathruka Sthaanamaanithu"!
Most of us wake up to his beautiful voice and it is his voice that we hear before we go to sleep at night, and his celestial voice is with us in our moments of happiness, most romantic and intimate moments, celebrations, sadness,and any moment that one can think of! Our Dasettan is part of our heartbeats and our day is not complete for most of us without hearing the Gaandharvva voice! When he sings melodies the listener gets the feeling that he is singing only to that particular person, caressing the inner core of that person, as his voice has that inimitable quality! Yesudas has rendered the words of ONV Kurup that ask the question the world over is eager to ask, "Parayoo Nin Gaanathil Nukaraatha Theninte Madhurima engane Vannu"?(Wont you tell us how your songs got the sweetness of the untouched honey?)
It has been said that if God has a voice, He will sing in Yesudas's voice! I feel it is true, and more so, when I listen this most beautiful song wuth the words of Baby John Kalayanthani to Peter Cheranalloor's music, 'Daivathe Marannu Kunje Jeevikkaruthe", in Yesudas's celestial voice — It's truly heart stopping moments each time I listen to this alluring murmur of a song and I always feel God's presence and I like to believe that I was listening to God himself! The great Devarajan Master had this to say about our Gandharvan, "A song to become a real song with all its glory, 'Dasappan' has to sing it"! The greatest tribute was from the great composer, Raveendra Jain, "If I ever regain my eyesight, the first person I want to see is Yesudas"! These are just a few tributes from great legends in the Music Industry!
And there is one song that makes me stand up in awe everytime I watch the film, the combination of the inimitable acting of the great legend Sathyan, who is still the 'Emperor of Malayalam Cinema', Yesudas's scintillating voice and the spectacular visual for this gem of a song, "Pravaachakanmaare… Parayoo Prabhaathamakaleyaano"
(Anubhavangal Paalichakal), written and composed by the two unbeatable legends, Vayalar and Devarajan! And this song is from the last film Sathyan acted, which makes it more poignant and tearful!
It may appear strange to the new generation now, but it was Yesudas who opened the doors of Carnatic Music to thousands of people who would have been oblivious to it otherwise! He alone has done more than any person in history to change the image of Classical Carnatic Music and suddenly it was in vogue among the modern youth to be interested to take up training in Classical Music! Yesudas has always been an inspiration to the younger generation over the last six decades, as he is refreshingly unpretentious, dedicated and charismatic. He was the first Christian to cut across the barriers of tradition and caste, to climb the ladders of Carnatic music that was inaccessible to all, but Brahmins and a few high caste Hindus during the 60s, which fortunately has changed for the better since! He received distinction from RLV Music Academy at Thrippunithura and 'Gana Bhushanam' from Swathi Thirunal Academy, Trivandrum in 1960.
He has the star quality, which is so much more than just fame, fortune and success, it is elusive, almost impossible to pinpoint, but still instantly recognisable and the person who has it is uniquely special. He has that quality in abundance, which gives our more mundane existence a touch of magic, for he is larger than life! He achieved fame against all odds fired by a vocation, through uncompromising commitment and a profound determination to be a perfectionist. The unique tone quality and a predominant brilliance with diamond hard precision and perfect diction contribute to his 'Vocal identity' that is incomparable and inimitable!
It's then no surprise that the Nation honoured him with 'Padma Sree' in 1977, 'Padma Bhusan' in 2002, and 'Padma Vibhusan' in 2017, and I am sure 'Bharat Ratna' is waiting in the wings! He was also honoured with many National and International awards, including the National Award for the Best Singer eight times, six in Malayalam and one each in Hindi and Telugu languages, State awards for Best Singer 43 times from various States, including the 24 awards from the State of Kerala, Honorary Doctorate from Annamalai University and many other awards!
Yesudas is the only singer to be honoured in India with eight National awards! 'The First National Award' was in 1973 for 'Manushyan Mathangale Srishtichu', written by Vayalar and composed by Devarajan for the film 'Achanum Baappayum', the 'Second Award in 1974' for 'Padma Theerthame Unaru' also created by Vayalar and Devarajan for the film 'Gaayathri', the 'Third Award in 1978' for the Hindi song 'Gori Tera Gaon', written and composed by Raveendra Jain for the film 'Chitchor', which was a phenomenal hit and the name 'Yesudas' was on everyone's lips across India! The 'Fourth award in 1982' was for 'Aakasha Desana' the Telugu film 'Meghasandesham', written by Vettoori Sankararama and composed by Ramesh Naidu.
All the other four National Awards came his way for the songs in Malayalam, the 'Fifth Award in 1988' for 'Unnikale Oru Katha parayaam', written by Bichu Thirumala and composed by Ouseppachen for the film 'Unnikale Oru Katha parayaam, the 'Sixth Award in 1992' for 'Ramakatha Ramalayam' written by Kaithapram Damodaran Namboothiri and composed by Raveendran for the film 'Bharatham'. The seventh in 1994′ for ' Ksheera Saagara Shayanaa' and Other songs in the film' composed by S P Venkitesh and written by Kaithapram, also using the works of Carnatic legends for the film 'Sopaanam! The 'Eighth National Award in 2018' came to Yesudas after 24 years, at the age of 78 for 'Poyi Maranja Kaalam' written by Premdas Guruvaayoor and composed by Ramesh Narayanan for the film ' Vishwasapoorvvam Mansoor'!
It is not just one of the most beautiful voices in the world, it is pure enough to make one think of walking on dry snow when the sun is shining, as in 'Ottakkampi Naadam' or perhaps the smooth bubbling of cream and melting chocolate dripping with honey, as in 'Chandana Lepa Sugandham'! Something special happens even when he sings very ordinary songs, words come to life dancing to his voice and songs become classics! Music Directors, Lyricists and their lyrics reach immortality through his voice:'KaliVeedurangiyallo'
(Kaithpram) 'Amaavasi Naalil' (Yousafali Kecheri), 'Thamasamenthe Varuvaan' (P Bhaskaran), 'Parijatham Thirumizhi Thurannu' (Vayalar)'Maanikya Veena' (ONV), 'Hridayasarassile' (Sreekumaran Thampi), 'Chandana Lepa Sugandham'(K Jayakumar IAS), 'Pinneyum Pinneyum' (Gireesh Puthencherry), 'Ee Chillayil Ninnu' (Rafeeq Ahamed) are just a few of many such examples.
With the emergence of the great legend, Raveendran Master, who always believed that he was born just to make music for Yesudas, a new kind of music bombarded the sound waves! 'Raveendra Music' brought out the sheer breath taking magical ability in Yesudas's voice to project intricate melodies with consummate skill and sweetness of tone, with a readiness to throw all inhibitions to the winds when the music demands, which amazed the music lovers! 'Hari Muralee Ravam', 'Raamakatha', 'Ezhu swarangalum'. 'Sreelathikakal'. 'Ennum Chirikkunna Sooriyante' 'Pramadavanam'. 'Gange', 'Thaarake', 'Sreela Vasantam', 'Gopike' are few of which challenged the sound waves and human capabilities, which will always remain as a tribute to the great Music director Raveendran, who astonished the music world by his scintillating signature style!
He has worked with most of the music Directors in India, mostly Malayalam, Tamil, Kannada, Telugu, and also in Hindi. Music Directors knew that they could make any type of tunes and Yesudas would go way beyond their expectations! He has worked mostly with Baburaj, K Raghaven, M B Sreenivasan, Job Master, Devarajan, RK Sekhar, Dakshinamurthy, Shyam, S P Venkitesh, Vidhyadharan Master, Raghukumar, A T Ummar, Johnson, M G Radhakrishnan, MS Viswanathen, Raveendran, JayaVijaya, Vidyasagar, Mohan Sithara, M Jayachandran, Gopi Sundar, Illaiyaraja, Ramesh Narayanan and many more, including A R Rahman. He has also worked with younger generation of music Directors producing new melodies!
His voice is still magical in his late 70s, proved by the many songs! 'Kaadaniyum Kaalchilampe' from the film 'Pulimurugan' in 2016, is a delightful song with K S Chitra, in his most seductive voice to Rafeeque Ahmed's words and composed by Gopi Sunder! 'Thennale Mani Thennale' with K S Chithra to Kaithapram's words and M K Arjun's soft music in the film 'Vasanthathin Kanalvazhiyl' in 2014 was so seductive that it reminded me of Yesudas's most alluring voice to Sreekumaran Thampi's seductive words in 'Madhura Geethangal' in 1970, the 47 years having made any difference to the Gaandharva voice! 'Kantittum Kantittum Poraathe', and the National Award winning song 'Poyi Maranja Kaalam' from 'Viswaasapoorvam Mansoor' and 'Vaanam Mele Kaatu' in Malayalam, including 'Pachakklikal' and 'Oru Pen Pura' in Tamil, and 'Karma Bhoomilo' in Telugu are just few of the recent songs!
Perhaps Yesudas has broken all the records in music history by winning the National award at the age of 78, proving the new dictum yet again that '80 is the new 60′ or even younger! When one finds that his earlier songs are better than the new, and the new songs better than the old, one is at a loss, as there is no flaw in his music.
The legendary music director M K Arjunan, Sreekumaran Thampi and Yesudas got together for the remake of Sreekumaran Thampi's most seductive 'Kasthoori Manakkunnallo Kaate' from the film 'Picnic' that was made 38 years ago, for the new film 'Naayika'! I was amazed to notice that 38 years had made no difference to the Gaandharvva voice, and the song had the 'Kasthoori fragrance' in abundance, perhaps a bit more intense in depth and allure, especially when he sings SKT's most erotic words, 'Chenchuntu Vithumbi Ninno", taking the listener to another world, just as he did all those years ago, which is a tribute for the trio, Yesudas, Sreekumaran Thampi and Arjunan Master! The great legend Yousafali Kecheri has done a poem, 'Yesudas' and he had said that he has written songs with Yeudas in his mind: "Thenaanu Nin Swaram Paattukaara…"(Your voice is like honey my precious Singer!")
One can tell that one is about to experience something truly special, by the heart stopping silence that sweeps through the audience at any of his concerts! One feels that it would not make much difference what he sang, as most of his power lies in his melodious voice. taking the listeners to sheer ecstasy! Songs like 'Akale akale', 'Thaamasamenthe'. 'Praanasakhi', 'Eeshwaranorikkal', 'Hridayasarassile', 'Aa Nimishathinte', Pournnami Chandrika', 'Swapnangalokkeyum Pankuvaykkaam', 'Nashta Swarggangale', 'Sanyaassini', 'Oru Pushpam Maathramen', 'Kaattinu Sugandham', 'Deva vaahini Theerabhoomiyil', 'Amma Mazhakkaarinu'. 'Kanne Kalaimaane', Poove Sen Poove'. 'Chaand Akkela', 'Gori Tera Gaon', and many more take the listener to celestial heights! 'Oru Raathri Koodi' is another heartwrenching classic by Gireesh puthencherry in the Gaandharva voice! 'Oru Narupushpamaay En Nerkku Neelunna' is yet another song that touches all your senses, written by the legend O N V Kurup and composed in Ramesh Narayanan's scintillating music for the film 'Meghamalhaar'!
Dakshinamurthy alone has the credit for composing music for four generations in Yesudas's family, starting with his father, singer and actor, Augustine Joseph for the film 'Nalla Thanka 'in 1950, followed by Yesudas, Vijay Yesudas and then lastly four year old Ameya, Vijay Yesudas's daughter!
His contributions to music over the past six decades have been amazing. The 'Madhura Geethangal – Karineelakkannulla Penne" sung by Yesudas that was released in 1970 with beautiful melodies written by Sreekumaran Thampi and composed by Dakshinamurthy still tops the chart — all those songs are what dreams are made of and still on everyon's lips!
He has rendered more than 80,000 songs, including Carnatic Classical songs, film songs, Light music, devotional and festive songs, in various Indian languages, including Tamil, Telugu, Kannada, English, Russian and Latin! Yesudas has this unique power to bring out the beauty in any language, bringing people of different creed, colour and nationalities under one roof. Hindi songs such as 'Gori Tera Gaon', 'Jane man', 'Yeh Subah Suhani Ho', 'Jab Deep Jale Aana', and many more songs show his inimitable ability to excel in a different language. He has performed in front of packed audience in UK, France, Switzerland, Germany, Gulf States, USA and many venues in India.
You remember when you first heard the Gaandharvva voice and therefore immediately nostalgic. whether you witnessed it the first time round or experiencing the magic of these songs in its immediate context for the first time, you are in for a wonderful feast at any of his concerts! When one hears a certain song, it is so obvious that it was written just for Yesudas to sing: 'Krishna Njan Paadum Geethathodano Parayu Ninakketamishtam', could not have been written for anyone else! When he sings 'Darshanam Nalkane, 'Paada Smarana Sukham', 'Harivaraasanam', 'Ksheera Saagaraa Shayanaa', 'Vaathil Thurakku Kaalame', 'Daivathe Marannu Kunje' and 'Kudajaadriyil', one is tempted to turn around to see if God is amidst us in person! Even deities are put to sleep by bis voice — 'Harivaraasanam' at Shabarimala is such an example! His melodious voice has many facets like a freshly cut diamond, ranging from soft alluring elegance, gliding through dazzlingly beautiful tones breaking into a trail blazing magnetic tonality with diamond hard precision, reaching beyond known barriers. as only he can, which hasn't changed over the last six decades!
When he sings he gives his all, creating magic with perfect diction and depth: 'Villinmel thaalam kotti, 'Uthraada pooviliyil' and 'Kulichu kuriyittu' make you feel the festivities of Kerala, 'Gange, 'Hari Muraleeravam', 'Samayamithapoorva Sayahnam', 'Sathyam Shivam', 'Kaatile Paazhmulam', 'Parvathi Manohari', 'Ponnil kulichu', 'Naadabrahmathin, 'Sambhavaami Yuge Yuge', 'Swargganandini Saraswathi and 'Hindola Ragardranayi', and 'Nakshathra Deepangal Saakshi' take you beyond the sound barriers. 'Hridayasarassile Pranayapushpame'..'Omane Nin Mukham', 'Perariyathoru Nomparthe', 'Mudippookkal Vaadiyalenthomane', 'Madhurappathinezhu kaari', 'Ennodenthinee Pinakkam', 'Pinneyum Pinneyum', 'Chandana cholayil', 'Adyathe Nottathil', 'Adyamayi kanta Naal' 'Kaadaniyum Kaalchilampe' and 'Oru Naraupushpamaay En Nerkku Neunna' make you float through a fairyland, on a romantic cloud! And 'Amma Manassinu Kan Niranju. 'Paranjilla Njaan Onnum', 'Pradosha Kumkumam', 'Sandhya Koluthiya', 'Iniyennu Kaanumen Makale, 'Nanni Aarodu Njaan, 'Onnu Marakkaan Kazhinjenkil' and 'Parannu Poya Mohame', give you a touch of melancholy!
The irresistible combination of a unique style, alluring voice and a serene face that sparkle with youth, honesty and humility made him the living icon of generations, inspiration to the youth and absolute craze among people of all ages, profession and class, to which he is quite oblivious! He is meditative and often solitary with a wonderful sense of humour, but his ability to communicate through music is magical. Millions all over the world adore Yesudas, but the small State of Kerala, aka, 'God's Own Country', is very proud of its most famous son!
And I am not ashamed to admit here that if I feel melancholic anytime, there is one song more than any other that elevates my mood is this magical song, "Mudippookkal Vaadiyaalenthomane Ninte Chirippookkal Vaadaruthennomane…", in the Gaandharva voice with Sreekumaran Thampi's seductive words to Raveendran's soft music, that wipes away one's tears, and I am sure most people would agree with me, though each one of us will have our own special songs!
At least three names deserve to be mentioned here, his beautiful wife, Prabha, who has been beside him for many years and behind all his endeavours, his father the late Augustine Joseph and his mother Elizabeth who guided him into the world of music! I entrust the upkeep of this electrifying eternal brilliance, the beacon of certainty and elegance that stood the test of time in an uncertain world, in the lap of the gods forever with our love and prayers!
©️EMenonJanuary 2021