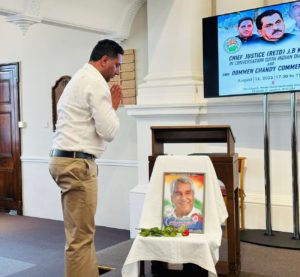 An elegant and solemn event unfolded on the evening of August 16th at the Hinde Street Methodist Church in Central London, as esteemed guests gathered to commemorate the legacy of the late Chief Minister of Kerala and Indian National Congress leader, Shri Oommen Chandy. The event, marked by profound conversations and thoughtful reflections, saw Chief Justice (Retd) J. B. Koshy engage in a stimulating dialogue with the Indian Diaspora.
The occasion was graced by the presence of Indian Overseas Congress (IOC) UK National President, Kamal Dhaliwal Ji, who honoured the Chief Guest on behalf of IOC UK and addressed the assembled Indian Diaspora.
Ajith Muthayil, a prominent leader of IOC UK, warmly welcomed the attendees to the evening's gathering. Imam Haque, an influential figure within the IOC UK and an East Ham Councillor, conveyed heartfelt condolences on behalf of IOC UK.
The event's discussions were enriched by the contributions of esteemed individuals, including Fr. Tommy Edattu, Chair of the Media Cell, Vicar, and Orator of Syro Malabar Church, as well as Fr. Nithin Prasad Koshy, Vicar of St. Gregorious Indian Orthodox Church in London. Former Mayor of Loughton, Phillip Abraham, and Master Chef Jomon Kuriakose engaged in meaningful conversations that centered on fond remembrances of the late Chief Minister Shri Oommen Chandy.
The gathering was further graced by the presence of notable personalities, including Mr. Eldo N.V., CEO & General Secretary of YMCA Indian Students Hostel, and Mr. Jose Chakkalakal, representing the West London Keralites Community, both of whom added a touch of distinction to the occasion.
A special mention goes to Alaka R Thamby, Vice President of the Indian Overseas Youth Congress (IOYC) Kerala Chapter, as she adeptly anchored the proceedings and ensured seamless coordination on stage.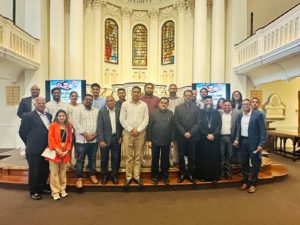 The meeting reached its conclusion with Ephrem Sam, President of the IOYC Kerala Chapter, expressing heartfelt gratitude to the attendees for their presence at what had been a dignified and inspiring gathering.
The Indian Overseas Congress (IOC) UK extends its sincere appreciation to everyone who lent their support and participated in this meaningful event. Your involvement has contributed to the success of this commemorative evening.