V.D. Satheesan, a promising progressive Leader of Kerala's Congress Party, is scheduled to touch down at London Heathrow on November 16. As part of his visit, V.D. Satheesan will actively participate in thought-provoking debates centered around "Nehruvian Socialism."
These discussions aim to include distinguished politicians, political researchers, social activists, and political historians, fostering a platform for diverse perspectives. Councillor Baiju Thittala, the deputy leader of Cambridge is taking an active role in organising the events in Cambridge.
Nehruvian Socialism and What Needs to be Done: A Lecture at Cambridge University
A highlight of Satheesan's visit is a lecture at the prestigious Cambridge University, scheduled for November 17 at the South Asian Students' Hall. Titled "Revival of Nehruvian Socialism and its Means," the discourse seeks to reassess the relevance of Nehruvian Socialism in the contemporary era and explore the necessary steps for its revival. Jawaharlal Nehru, a pivotal figure in India's history during the mid-20th century, will be referenced for his contributions to anti-colonial nationalism, secular humanism, and social democracy.
As the chief guest in the debate, organised in collaboration with the Cambridge Students' Union, Satheesan's speech is poised to contribute significantly to discussions on the resurgence of Nehruvian Socialism. The event anticipates uniting diverse perspectives and fostering meaningful discussions on the contemporary relevance of this political and social ideology.
Debating 'Social Justice and Political Equality' at Anglia Ruskin University
Continuing his intellectual pursuits, Satheesan will engage in a debate on 'Social Justice and Political Equality' at Anglia Ruskin University in Cambridge on November 18. Esteemed figures, including UK Member of Parliament Daniel Zeichner, Cambridgeshire-Peterborough Deputy Mayor Anna Smith, and Writer and Social Activist Shahida Rahman will deliver lectures, providing a comprehensive exploration of critical issues surrounding social justice and political equality.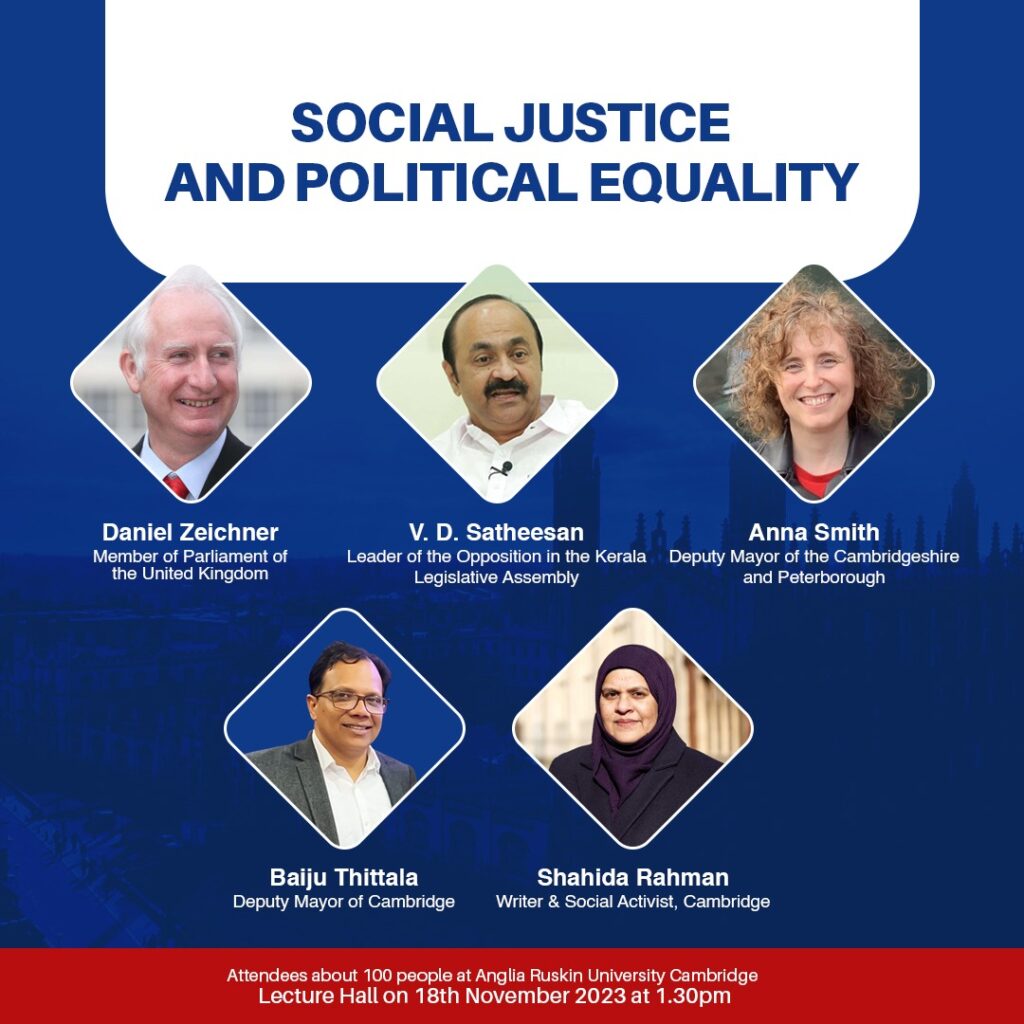 Satheesan's active participation in these academic discussions underscores the importance of international dialogue on political ideologies and social issues. His presence at these renowned institutions is expected to enrich the discourse on Nehruvian Socialism and contribute to a deeper understanding of the challenges and opportunities in the contemporary political landscape.
Grand reception by OICC UK
On the afternoon of November 18, Kerala's esteemed opposition leader will receive a grand reception by the Overseas Indian Cultural Congress (OICC) – UK, commencing at 5:30 PM at Elephant and Castle in London.
This gathering is set to welcome all democracy enthusiasts, Congress activists, and well-wishers, extending a heartfelt reception to V.D. Satheesan.
The venue for these engaging events is Draper Hall, Elephant and Castle, Hampton St, London SE17 3AN.
For further details, interested individuals can contact:
K.K. Mohandas: 07438 772808
Dr. Joshi Jose: 07737 240192
Babykutty George: 07961 390907