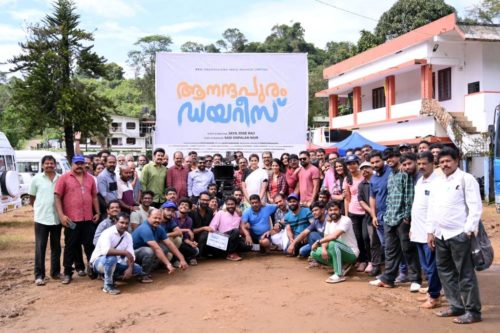 Sasi Nair, a prominent figure in the Malayalee community and Managing Director of Neil Travels in East Ham, is stepping into the world of filmmaking with his first project, "Aanandhapuram Diaries."
"Aanandhapuram Diaries" is set to be a multi-lingual cinematic venture, targeting a diverse and widespread audience. The film will see release in three languages – Malayalam, Tamil, and Telugu, ensuring that its appeal transcends geographical boundaries and resonates with viewers from various regions. This approach not only underscores the film's versatility but also underscores its intention to establish connections with audiences across linguistic and cultural divides.
Meena Sagar, the renowned actress, plays the central role in "Aanandhapuram Diaries." Following the untimely demise of her husband, Vidyasagar, last year, Meena had temporarily stepped away from the world of acting. Her return to the silver screen through this Malayalam production is a touching moment in her career, marking her comeback after a gap of 15 months. Meena's last Malayalam film was "Bro Daddy."
Meena has now joined the set of "Aanandhapuram Diaries," which commenced filming in the picturesque locales of Kalpatta. The film boasts a cast, including Srikanth, Manoj K. Jayan, Siddharth Siva, Sudhir Karamana, Jaafar Idukki, Roshan Abdul Rahoof, Jayakumar, Jayaraj Kozhikode, Suraja Thelakad, Miranair, Mala Parvathy, Devika Gopal Nair, Ramya Suresh, RJ Anjali, Kutty Akhil, Abhilash, Shikha, Anju mary and others.
The movie's storyline is by Sasi Nair, who is producing the movie under the banner of Neil Productions India Pvt Ltd.
Script and Direction are by Jaya Jose Raj
The cinematography is in the capable hands of Sajith Purush. The music, with lyrics by Rafiq Ahmed and Manu Manjit, is composed by the talented duo Shaan Rahman and Albert Vijayan. Editor Appu Bhatta Thiri ensures a seamless storytelling experience, while Vinod Mangalath serves as the Production Controller. A.S. Dinesh takes charge of Public Relations.
Speaking about the project, Sasi Nair expressed his excitement, saying, "I'm thrilled to announce that we've embarked on a new cinematic journey with 'Anandhapuram Diaries.' We've officially begun shooting, and your support means the world to us. We humbly seek your blessings and invite you to follow our journey on our Instagram page. Stay tuned for updates, behind-the-scenes moments, and more!"
In addition to the remarkable cast and crew, noted UK-based actor Murali Vidhyadharan, in a Facebook post, shared his enthusiasm, stating, Really lucky to be part of this great film. Congratulations and best wishes to the Director, Producer, and the whole team.
To add to the excitement, Meena herself took to Instagram, sharing a sneak peek into the film's production. She posted, "Lights, camera, action! Presenting 'Anandapuram Diaries,' my upcoming Malayalam film. Join me on this exhilarating adventure as we bring this story to life! 🌟 Can't wait to share more with all of you."
"Aanandhapuram Diaries" promises to be a cinematic masterpiece that will not only mark Meena's return to the screen but also captivate audiences with its compelling narrative and remarkable performances. As the film's production progresses, fans and cinema enthusiasts can look forward to an exciting cinematic experience that bridges cultures and languages.