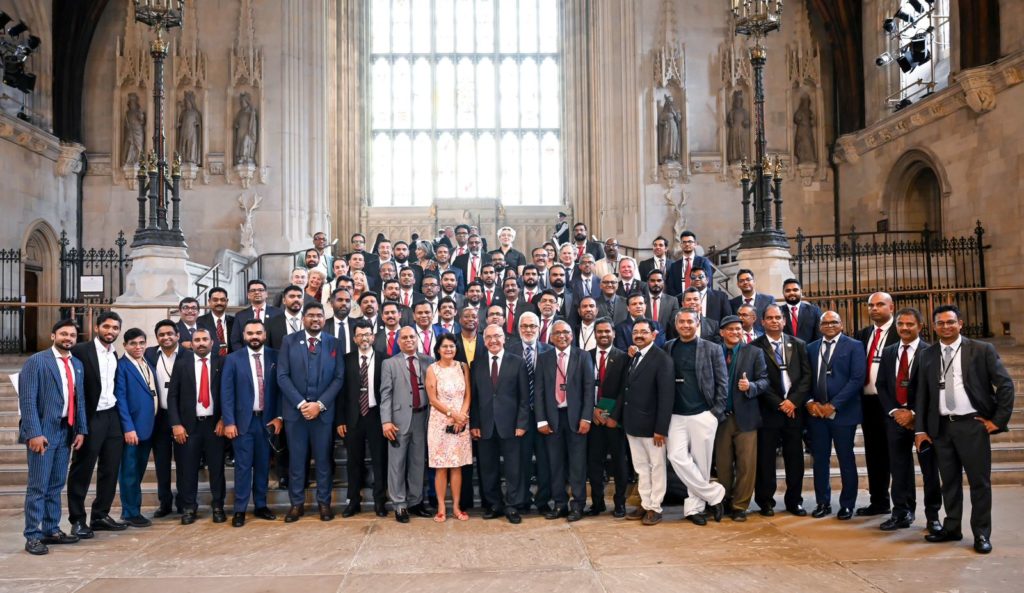 Hosts Parliament visit and networking dinner at the
prestigious Institute of Directors (IoD)
The UK-Kerala Business Forum (UK-KBF) extended a warm welcome to a distinguished group of fifty Kerala-origin business leaders from Dubai who arrived in London on 11th September. This high-profile visit included a series of engagements, including interactions with British Members of Parliament at the House of Commons and a grand gala dinner held in the evening.
The primary objective of this visit was to explore business expansion opportunities in the United Kingdom, capitalising on the vast prospects created by the post-Brexit business landscape. The delegation was led by Mr. Faizal A.K, Executive Director of Malabar Gold and Diamonds, Mr. Zainudeen P.B, Co-Founder and Group Executive Director at Hotpack Global Inc, Mr. Shihabudeen Thangal, Director of Tamim Chartered Accountants, and Mr. Riyaz Kilton, Chairman of Kilton Group. Each of these accomplished business executives boasts a solid track record in their respective fields and is affiliated with the Dubai-based International Promoters Association (IPA).
The visit aimed to assist other Kerala business leaders in exploring opportunities to replicate successful models or seek partnerships for business expansion in the UK, spanning various sectors such as technology, technical services, advanced packaging, and accountancy solutions.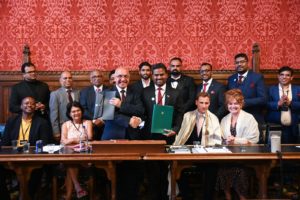 The visit was inspired by the remarkable success of Hotpack, a UAE-based company that manufactures and supplies food packaging products across various industries, including Retail, Hospitality, Healthcare, Pharma, and Construction. In 2016, Hotpack established its first European operations, H-Pack Packaging UK Ltd, in Wrexham, Wales, with a substantial investment of £50 million. Due to continued demand for their products, the company now plans to invest an additional £50 million in its UK operations.
"As a manufacturer and distributor of sustainable products, I am optimistic about the future of our operations in Wales" said Mr Jabir Mohammed, the Director of H-Pack (UK-Europe).
During their visit to the UK Parliament, the delegation engaged with several MPs who offered valuable insights and assistance for setting up businesses in their respective areas. Notable MPs included Mr. Chris Philp, Minister of State for Crime, Policing, and Fire; Mr. Mark Pawsey, representing Rugby in Warwickshire; Ms. Sarah Atherton, MP for Wrexham; and Mr. Martyn Day, representing Linlithgow and East Falkirk in Scotland. These MPs emphasised the importance of manufacturing in the UK and encouraged businesses to explore opportunities in their regions.
All MPs also highlighted the recent visit of Prime Minister Rishi Sunak to the G20 event in Delhi and the significance of the impending UK-India Free Trade deal.
The visit to the UK Parliament was graced by the presence of Her Excellency Nimisha Madhvani, the High Commissioner of Uganda. She expressed her interest in inviting the visiting delegates to Uganda, highlighting the substantial presence of successful Kerala and other Indian businesses in the country. H.E. Madhvani also highlighted the substantial presence of successful Keralan and other South Indian restaurants in Uganda, serving Dosha and Idily. "You feel at home in Uganda," she said, underscoring the welcoming atmosphere and cultural connection. Joining H.E. Madhvani were Mr. Mwesigwa Robert Rukaari, a visiting Ugandan Member of Parliament, and Mr. Jaffer Kapasi OBE, Honorary Consul General of Uganda in London. H.E. Madhvani shared insights into the ease of obtaining visas for Uganda and extended assistance for setting up businesses there.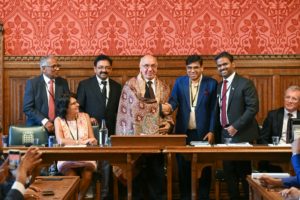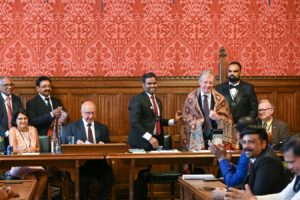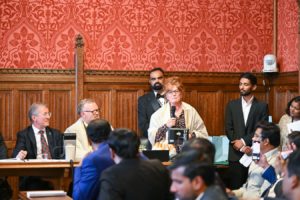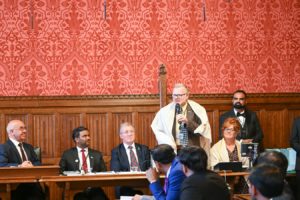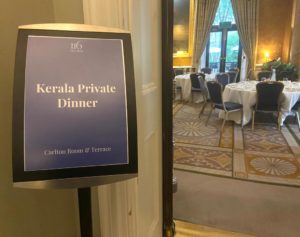 The prestigious Institute of Directors (IoD) at Pall Mall in London hosted the evening event, which featured a welcome drink reception, a sumptuous 3-course meal, networking sessions, presentations, and an award ceremony. Notable attendees included Mr. Virendra Sharma MP, Her Excellency Nimisha Madhvani, Councillor Manju Shahul-Hameed, former Mayor of Croydon, Dr. Biju Peringathara, President of the Union of UK Malayalee Associations
(UUKMA) and award-winning motivational speaker Mr. Paresh Rughani.
During the evening event, speakers from both the UK and Dubai presented opportunities for businesses and start-ups in both countries. Several participants conveyed their congratulations and extended support to the IPA and UK-KBF for their future endeavours.
In recognition of their outstanding initiatives and contributions in their respective fields, IPA honoured five individuals with Business Excellence Awards during the networking dinner. The awards were presented by Mr. Virendra Sharma MP to the following individuals:
Ayyub Kallad, Chairman of Wyse Ventures
Adv Abdul Kareem bin Eid, Founder and CEO of Bin Eid Advocates and Legal Consultants
Jamad Usman, Founder & CEO of Emirates First Group
Hassainar Chungath, Managing Director of Waved Net Computers
Afi Ahmed, Chairman and Managing Director of Smart Travels Group
These awards symbolise the commitment and dedication of these individuals to excellence in their industries, and their visionary leadership serves as an inspiration to the business community at large.
Hon. Virendra Sharma MP is the Patron of the British South India Council of Commerce.
The UK-Kerala Business Forum, in collaboration with Mr. Virendra Sharma MP, played a pivotal role in organising this event, facilitating interactions with UK MPs, and orchestrating a grand networking dinner in the evening.
Key officials from the organisation, including Former Mayor and current Councillor of Loughton Mr Philip Abraham and Mr Padma Kumar together with BSICC Executive Directors Mr John Pius, Mr Boboy George, Mr Jacob Ravibalan, Mr Sujit Nair, Treasurer Mr Asheer Rahman and Chief Coordinator Mr Abhishek Thripadi, were instrumental in making the arrangements.
For further info please contact: Philip Abraham – Email: philip@keralalink.co.uk or John Pius – Mob: +44 7956675186 Email: 4corporates@gmail.com