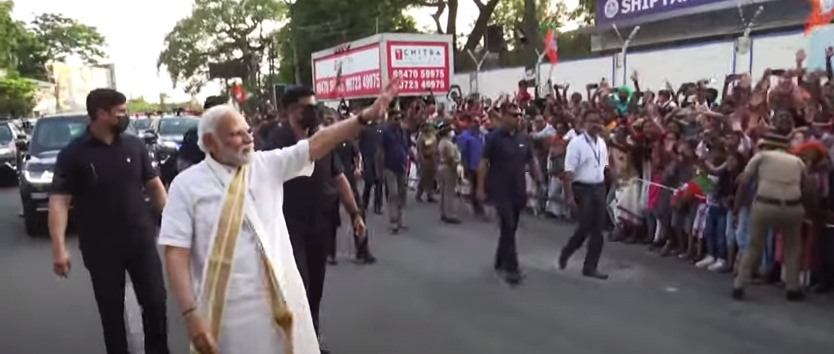 India's Prime Minister Narendra Modi arrived in Kochi for a two-day visit today 24th April at around 5pm local time. Thousands gathered on both sides of the stretch from the Thevara to sacred hearts college grounds where a public meeting was held.

Wearing traditional Kerala attire, PM Modi decided to walk part of this stretch, waving to the cheering supporters. Waiting supporters were surprised when they saw PM Modi walking past, waving at them.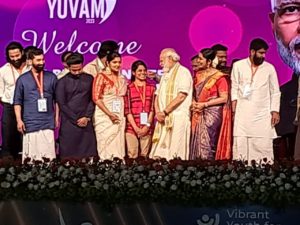 At the college ground, the PM addressed a public meeting and interacted with the youth as part of the 'Yuvam 2023' programme, where thousands gathered to listen to his speech. After the meeting, PM is scheduled to meet Kerala's Christian leaders. Eight prominent senior priests of various churches in the state have been invited to meet the PM at the Taj Malabar Hotel here where Modi will be staying.
Church leaders who are meeting PM Modi:
Major Archbishop Cardinal George Alencherry (Syro Malabar Church)
Baselios Marthoma Mathews III Catholica (Orthodox Church)
Joseph Gregorios Metropolitan (Jacobite Syrian Church)
Bishop Mathew Mulakat (Knanaya Catholic Church, Kottayam)
Eugene Kuriakose (Chaldean Syrian Church)
Cardinal Cleemis (Syro Malankara Sabha)
Archbishop Joseph Kalathiparambil (Latin Church)
Kuriakose Xaverius (Syrian Church of Canaan)
The meeting with the church leaders is a part of the BJP's outreach campaign 'Sneha Yatra'.
The aim is to replicate BJP's success in Christian-dominated Nagaland and Meghalaya.
On Tuesday morning, the Prime Minister would travel by air from Kochi to Thiruvananthapuram, where he will flagging off the Vande Bharat Express train, an indigenously manufactured, semi-high-speed train.