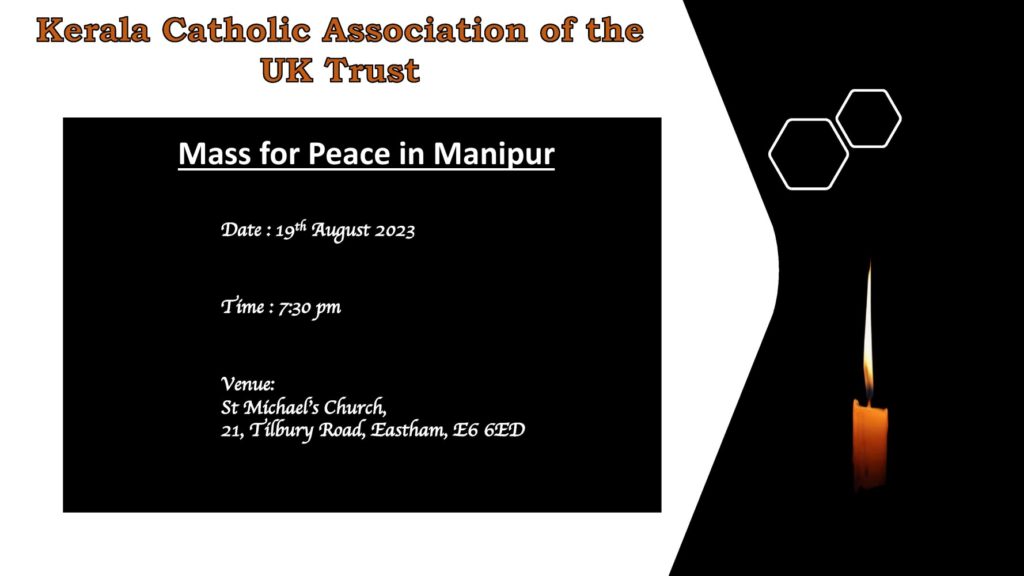 In the wake of the recent tragic events that unfolded in Manipur, where a cultural event took a tragic turn resulting in loss of lives, the Kerala Catholic Association of the UK (KCAUK) has taken a significant step to commemorate the lives lost and offer solace to the grieving families.
Originating from the northern-eastern state of India, Manipur, the turmoil began on May 3, 2023, and specifically targeted the Christian community. Amidst this prolonged unrest, which led to unfortunate loss of lives, the KCAUK has announced a remembrance event that will take place on August 19, 2023, at 7:30 PM at the ST. MICHAEL's Church located at 21 Tilbury Road, East Ham, London, E6 6ED.
Dr. Lizy Damien, President of KCAUK, who shared that this event aims to offer prayers and divine sacrifices to honor the memory of all those who lost their lives during the unfortunate event. The event is set to comprise various segments, including a remembrance discourse, a poignant remembrance song, and an offering of divine sacrifices.
Speaking about the initiative, Dr. Lizy Damien stated, "In this time of grief and reflection, we are uniting as a community to offer our prayers and support to the affected families. The Kerala Catholic community from across the UK will stand together to remember the lives lost and extend our condolences."
The KCAUK is reaching out to all members of the Kerala Catholic community in the UK, as well as friends and well-wishers, urging them to participate in this event and spread the word among their circles.
This global remembrance event is not only an opportunity to pay respects to the lives lost but also signifies the power of unity and solidarity in times of adversity. The event is expected to draw a large attendance, with the entire Kerala Catholic community showing its support and empathy for those affected by the tragedy.
As the KCAUK leads this initiative, the hope is that the event will provide some comfort to the grieving families and send a message of compassion and strength to those who are enduring this difficult time.
For more information about the event and details on participation, interested individuals can contact the KCAUK through their official channels or contact via http://www.kcauk.org/
മണിപുരി കലാപത്തിൽ ജീവൻ നഷ്ടപ്പെട്ടു പോയ സഹോദരങ്ങൾക്ക് വേണ്ടി അർപ്പിക്കുന്ന ദിവ്യബലിയും പ്രാർത്ഥനകളും 🙏🙏🙏
ഇന്ത്യയുടെ വടക്ക് കിഴക്കൻ സംസ്ഥാനമായ മണിപുരിൽ 03/05/2023 മുതൽ ക്രിസ്ത്യാനികൾക്ക് എതിരായി തുടങ്ങിയ ദീർഘമായ അതിക്രമത്തിൽ, കലാപത്തിൽ ജീവഹാനി സംഭവിച്ച എല്ലാ സഹോദരി സഹോദരന്മാർക്കും, ഈ ഭീകര ദുരന്തത്തിൽ കഷ്ടനഷ്ടങ്ങൾ സംഭവിച്ച മറ്റെല്ലാപേർക്കും, സ്വന്തനാട്ടിൽ അഭയാർത്ഥി ക്യാമ്പിൽ കഷ്ടതയനുഭവിച്ചു കഴിഞ്ഞു കൂടുന്ന പതിനായിരക്കണക്കിനുള്ള ആളുകൾക്കും വേണ്ടി കേരളാ കാത്തോലിക് അസോസിയേഷൻ ഓഫ് ദി യൂ കെ യുടെ (KCAUK) ആഭിമുഖ്യത്തിൽ 19/08/2023 വൈകുന്നേരം 7.30ന് ഈസ്റ്റ് ഹാമിലെ ST. MICHAEL's ദേവാലയത്തിൽ (21 Tilbury road, East Ham, London, E6 6ED) വച്ച് അനുസ്മരണ പ്രാർത്ഥനകളും, ദിവ്യബലിയും അർപ്പിക്കുന്നതാണ്.
ഈ ബലികർമ്മങ്ങളിലും, പ്രാർത്ഥനകളിലും കൂട്ടായി ഒരുമയോടുകുടി പങ്കുചേരുവനും, കൊല്ലപ്പെട്ടർക്ക് വേണ്ടി പ്രാർത്ഥി ക്കുവാനുമായി നിങ്ങളേവരെയും സാദരം ക്ഷണിച്ചു കൊള്ളുന്നു.
കേരളത്തിൽ നിന്നുള്ള എല്ലാ ക്രിസ്തീയ സഹോദര സഭകളും ഒത്തൊരുമിച്ചു ചേർന്നാണ് ഈ ബലികർമങ്ങളിൽ പങ്കെടുക്കുന്നത്.
ദയവായി ഈ അറിയിപ്പ് നിങ്ങളുടെ എല്ലാ കുടുംബാംഗളെയും, സുഹൃത്തുക്കളെയും അറിയിക്കുക.
കാര്യപരിപാടികൾ:
1. അനുസ്മരണ പ്രസംഗം.
2. അനുസ്മരണ ഗാനം.
3. ദിവ്യബലി സമർപ്പണം.
ദൈവം നിങ്ങളെയെല്ലാപേരെയും സമർത്ഥമായി അനുഗ്രഹിക്കട്ടെ.
☮️🛐☦️🙏
Dr Lizy Damien
President
KCAUK
http://www.kcauk.org