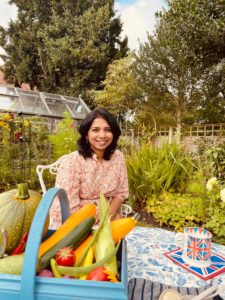 Akhila Venkitachalam, a prominent member of the Suffolk Malayalee community, has been recognised for her outstanding contributions at the prestigious BBC Radio Suffolk's Make a Difference Awards. Akhila's commendable achievement stems from her creation and sharing of a stunning garden in Ipswich that has left a lasting impact on her community.
In an effort to celebrate and acknowledge individuals who have made significant positive contributions to their local communities throughout the past year, BBC Local Radio stations across England invited nominations. The Make a Difference Awards, established shortly after the announcement of the first lockdown in 2020, aim to highlight everyday acts of kindness, exemplary volunteerism, and the unwavering dedication of remarkable individuals.
Akhila Venkitachalam's exceptional gardening expertise and her dedication to creating a green haven in Ipswich caught the attention of the awards committee. During an interview with BBC Suffolk, Akhila excitedly exclaimed about the first-year harvest of her Victoria plums, showcasing the bountiful produce that has flourished in her garden.
Reflecting on her passion for gardening, Akhila shared, "I used to watch my grandma garden, and I've developed a deep love for green spaces. I can't imagine life without my garden." Her commitment to well-being, tranquility, and fostering a sense of calmness through her garden resonates with the values celebrated by the Make a Difference Awards.
The awards ceremony featured various categories, including Volunteer, Community Groups, Fundraiser, Carer, Great Neighbor, Bravery, The Green Award, and The Together Award. Akhila Venkitachalam's recognition falls under The Green Award, honoring her exceptional contribution to enhancing the local environment.
Chris Burns, Controller Local Audio Commissioning for BBC England, expressed his delight in celebrating unsung heroes like Akhila Venkitachalam. He stated, "I am really pleased that we will once again be celebrating the good things that people are doing where they live. Our audiences have faced tough times over the past few years and have contacted us to share their stories of how people are helping each other. It's great that we can celebrate these unsung heroes."
Akhila Venkitachalam's commitment to creating a vibrant and green community space has left an indelible mark, inspiring others to follow in her footsteps. Her recognition at the Make a Difference Awards serves as a testament to the power of community-driven initiatives and the positive change they can bring to our lives.
Listen to Akhila's interview with BBC Suffolk here.