Picture: Our sponsored children celebrated the new year by sharing a cake together after their English tuition classes on Sunday 1st January 2023. They were also given a small gift to encourage them to do well this year. These children are from the fishing village of Arattupuzha in Alapuzha District. They all came well-dressed with a positive attitude for their first class of the year. Let's wish them good luck.
Help A Kerala Child – 2022 Annual Report
When the schools reopened in June 2022 and all our sponsored children were provided with a kit containing all the school essentials in a rucksack with all the back-to-school essentials at a special gathering, organised by one of the mother co-ordinators. It was held outside her house.
The rucksack kit included all the back-to-school essentials such as notebooks, white paper, pens, pencils, rulers, erasers, pencil sharpeners, sketch pens, book wrappers, etc.
We started the project with 11 children from the fishing village of Arattupuzha of Alappuzha district. Currently, we have 18 sponsored children. Thank you and Welcome to the new sponsors.
English classes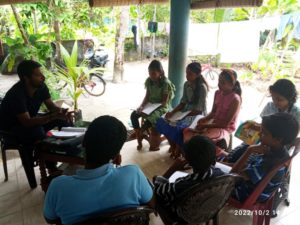 Online English classes for the sponsored children started just before Christmas last year. These classes were on the Microsoft Teams platform every Saturday
and Sunday. These classes are aimed at helping children to communicate in English by the time they reach school leaving age. However, the online classes had some logistical problems. The availability of the family smartphone was one of the issues. Most families possess only one smartphone, normally used by one of the parents. They all had to use mobile phone data to access the classes as they don't have broadband or wi-fi at home. Sometimes their data run out during the lessons, though we had provided the cost of buying extra mobile phone data.
Due to these problems, the classes were switched to face-to-face lessons, when the Covid restrictions were completely ended. Classes are now held on every Sunday for two and a half hours on the veranda of the tutor. The last two lessons were to introduce them to letter-writing skills. They were asked to write a letter to their sponsor with a festive theme, thanking them for their sponsorship and support. These letters were sent to the sponsors.
I would like to reiterate that 100% of your donations are used for sponsored children and other administration costs are met by Kerala Link or other general donations received.
Thank you for your contribution to Help a Kerala Child. We will keep you updated about the project and the progress of your sponsored child.
If you would like to sponsor a child or wish to make a one-off donation to the charity, please email philip@keralalink.co.uk