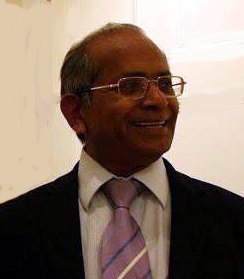 Dr K.A.Georgekutty MS FRCS passed away at St Georges Hospital in Tooting today 5th December 2020 Aged 79 years.
He suffered a mild heart attack and was in the hospital for the last few days.
Dr Georgekutty who came to the UK in the 80s belongs to the Kurudamannil Kulangara family at Vayalathala in Pathanamthitta district.
He was an active member of the Indian Orthodox Church in London. He worked hard for the purchase of the first Church at Brockely and later to obtain a Headquarters for the UK-EU-Africa Diocese of the Indian Orthodox at Swindon. He served at official levels at the Managing Committee of the church as treasurer and was actively involved in fundraising for the Diocese headquarters. He was also a member of the Diocese Council of the Indian Orthodox Church.
As a doctor, he had helped lots of people in his home town Vayalathala. He offered free consultation whenever he was in Vayalathala and dedicated a special room in his house for a consultation. People used to come from far away places. He enjoyed helping people.
He was very soft-spoken, a good administrator and a good doctor.
The messages of condolences are coming in on social media and church Whatsapp groups. Most of the messages recalled his relentless service to the church.
one message said:
"Dr Georgekutty uncle was one of the main pillars of theChurch in the UK. Former Diocesan council member and instrumental in establishing the Diocese in its infancy."
Another message said "GK uncle dedicated his heart and soul into the building up of our Orthodox community in the UK, especially throughout the formation years! "
His departure is a sad loss for the community, Indian orthodox church and people of Vayalathala.
Family: Wife: Elizabeth (Kunjoojamma)
Daughters: Sabina, Marina and Anila