Britain's answer to Disneyland is coming up in Kent.
The £3.5 billion theme park named as 'The London Resort' is expected to open in 2024.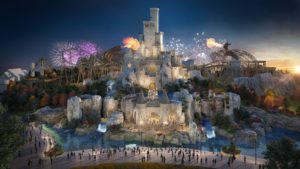 London Resort Holdings has acquired the land and formed partnerships with Paramount Pictures, ITV and the BBC.
The London Resort will be built on 535 acres of land on the Swancombe Peninsula, near Dartford, just 17 minutes from central London.
The project will be one of the largest construction projects across Europe. 30,000 people and a multi-billion pound investment will transform seven million square meters of land, on the banks of the Thames, into one of the largest, immersive experience centres in the world.
When complete, it will be three times larger than any other park in the UK.
The rides are expected to be based on BBC and ITV shows as well as Paramount films.
A bespoke entertainment district, including the provision of 3,500 hotel rooms, will be devoted to a full-suite of hospitality experiences. There will be something for every generation and food and drink for every taste.
The park will ultimately be a two-park resort. The first park is scheduled to open in 2024 and the second in 2029.