A significant milestone was achieved in the Rotary Club of Hornchurch and Upminster as they elected Mr. P K Edison, a prominent Malayalee Rotarian based in Hornchurch, Essex, as their new President for the next two years.
Edison, a highly accomplished Chartered Certified Accountant, will now lead the local branch of Rotary International, a renowned humanitarian organisation dedicated to assisting the less fortunate.
The installation ceremony took place at the picturesque Top Meadow Golf Club at South Ockendon in Essex on June 29th, where the outgoing President, Christine Smith, congratulated P K Edison and handed over her Presidential chain of office.
Expressing gratitude for the opportunity, Edison stated, "It is an honor for me to accept the position of President of the Rotary Club of Hornchurch and Upminster—an organization with a proud past and an exciting future."
Edison extended his appreciation to Christine Smith for her leadership during the unprecedented times of the COVID-19 lockdown.
The momentous occasion was witnessed by fellow Rotarians, past Presidents, family members, and friends from the Mar Thoma Church, London, where Edison serves as the Treasurer.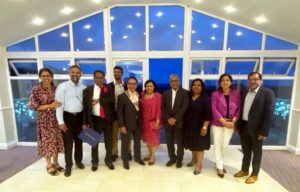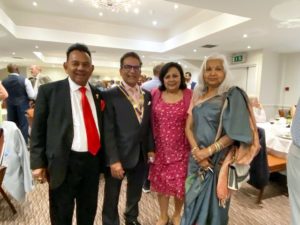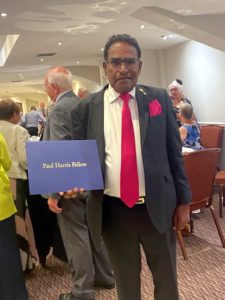 Edison acknowledged his brother and past President, Dr. Kochummen John, for introducing him to Rotary and encouraged his friends and family to join the organization and become part of its global mission. Rotary was founded in 1905 by Paul Harris, a Chicago attorney, with the vision of professionals from diverse backgrounds exchanging ideas and forming lifelong friendships.
The outgoing President named Dr. Kochummen John as the 2023 Paul Harris Fellow for his long service to the Rotary Club. Dr John had served as the President of the Hornchurch Rotary Club.
One of Rotary's most notable achievements in the past four decades has been the campaign to eradicate the Polio virus worldwide. When the campaign began, 1,000 polio cases were reported daily across 125 countries. Today, due to the efforts of Rotary and its partners, there are only two countries, Pakistan and Afghanistan, still reporting new cases. Millions of children have been saved through the administration of a simple vaccine, making this initiative a remarkable success story in global healthcare.