Prime Minister Modi dedicates Asia's largest Solar Power plant to the nation
Prime Minister Narendra Modi inaugurated Asia's largest Solar Power plant at Rewa in Madhya Pradesh to the nation.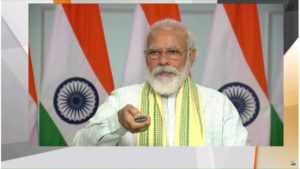 Inaugurating the function via video conference, Prime Minister Modi said that solar energy is going to be a major source of energy needs not only today but in the 21st century. Prime Minister said the Rewa project will make the entire region a major hub for pure and clean energy in this decade. He expressed the hope that very soon India will be a major exporter of power. The biggest beneficiaries of this would be the poor, the middle class, the tribals, the farmers of Madhya Pradesh, he said.
The Rewa solar project was an ambitious attempt by the state government of Madhya Pradesh to push the boundaries of India's private renewable energy market with International Finance Corporation and World Bank support.The foundation stone of the project was laid by Chief Minister Shivraj Singh Chauhan on 22 December 2017. The project was completed in a record time of about two and a half years.
The 750 Mega Watt Solar Park in Rewa has been developed over a total area of 1500 hectares, by the Rewa Ultra Mega Solar Limited, a Joint Venture of Solar Energy Corporation of India and Madhya Pradesh UrjaVikas Nigam Limited. The auction to supply electricity was won by Mahindra Susten, Acme Solar and Solenergi at Rs 2.979, Rs 2.970 and Rs 2.974 respectively. This is the first time, the price of solar power has been brought down to less than Rs. 3 per unit.
The Project will sell its power to the Madhya Pradesh Power Management Company Limited and Delhi Metro Rail Corporation under a 25-year Power Purchase Agreement.
24 percent of the plant's solar energy will be sold directly to the Delhi Metro, which will meet almost 60 percent of its daytime demand. .The Madhya Pradesh Power Management Company Ltd, which supplies power to the state electricity distribution companies, will get the remaining 76 percent.