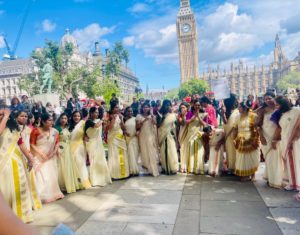 The streets of London witnessed a magnificent showcase as Kerala took the spotlight in a vibrant Saree Walkathon, an event that celebrated the cherished legacy of Indian handloom traditions. Over 40 Indian-origin women from Kerala, elegantly draped in their regional handloom sarees, joined the procession, adding a touch of Kerala's rich cultural tapestry to the event.
Organised by 'British Women in Sarees,' approximately 700 women adorned in vibrant sarees paraded alongside iconic landmarks, marching from Trafalgar Square to the Mahatma Gandhi statue at Parliament Square along the way on Whitehall near Downing Street.
The Kerala group, coordinated by Dr. Hema Santhosh of the Kerala Arts & Literary Association (KALA) UK, displayed unwavering excitement as they participated in the walkathon. "As ambassadors of this movement, we feel grateful that we have gained immense success with our early efforts in bringing the limelight to the artists and weavers, and putting their wearable art on a pedestal where everyone is curious to know more about them," said Dr. Hema Santhosh.
The participants showcased Kerala's traditional cream settu mundu sarees with borders, contributing to a colorful display of diverse handloom styles from across India. As part of the larger event, the Kerala contingent added a touch of Kerala's elegance and tradition to the parade.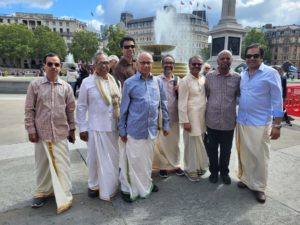 While the women were the stars of the walkathon, the male members of KALA, led by Dr. Sukumaran Nair, the Patron of KALA, and Dr. K Nanu, President of KALA, joined in, donning traditional Kasavu Mundu attire. Their involvement reinforced the collective commitment to upholding the cultural heritage.
Dr. Deepti Jain, the founder of British Women in Sarees, highlighted the event's aim of promoting and supporting Indian handloom weavers. The occasion was a vivid reminder of the inaugural event held at the Ladies Day Royal Ascot Races in 2022 in Berkshire, where over 1000 women from the Indian subcontinent radiantly adorned sarees.
This Saree Walkathon unfolded against the backdrop of National Handloom Day, an annual observance that pays tribute to India's handloom-weaving community and its profound contribution to the nation's socio-economic fabric. The Kerala contingent's vibrant presence in London added an exceptional Kerala touch to the global celebration of India's handloom heritage.