London & Birmingham!! are you ready ???
Tickets are selling fast!! grab your tickets to avoid disappointment!
Vijay Yesudas, Swetha Mohan and Haricharan coming together to UK.
Watch them perform live, a do not miss family concert.
you are definitely going to enjoy this music extravaganza!
Experience a night of captivating melodies and exhilarating rhythmic hits as three of India's most renowned playback singers grace the stage in the heart of the UK. Vijay Yesudas, Swetha Mohan, and Haricharan, each a musical sensation in their own right, come together for an extraordinary concert that promises to transport you to a world of musical bliss.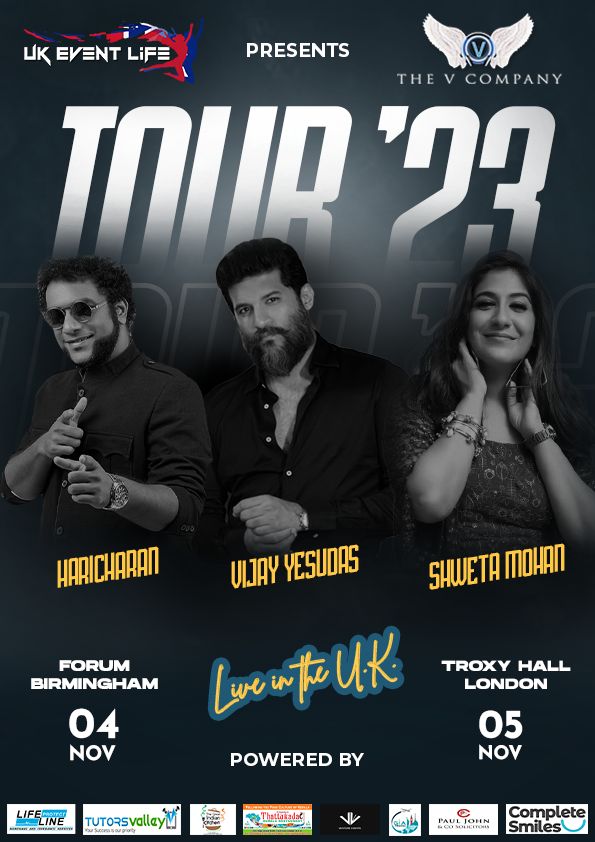 Vijay Yesudas has captivated audiences worldwide with his soul-stirring vocals and an illustrious career spanning diverse genres. Known for his enchanting voice, he's the son of legendary singer K.J. Yesudas and has carved his own niche in the world of playback singing.
Swetha Mohan, daughter of the legendary singer Sujatha Mohan with her angelic voice, has charmed listeners across languages and continents. Her versatility and emotive renditions have earned her a special place in the hearts of music enthusiasts.
Haricharan, a powerhouse of talent, is celebrated for his versatility and incredible vocal range. He's a maestro at infusing emotions into every note, making every performance an unforgettable experience.
Join us for a magical evening filled with iconic songs, mesmerizing tunes, and the incredible voices of these musical stalwarts. From soulful ballads to foot-tapping hits, this concert promises to be a celebration of music like no other.
Don't miss your chance to witness the musical brilliance of Vijay Yesudas, Swetha Mohan, and Haricharan, live in concert. Book your tickets now and prepare to be enthralled by an unforgettable evening of music that transcends borders and languages.
Get ready to be moved, get ready to be enchanted—this is a concert you won't want to miss!
Tickets are available on the following ticketing platforms.
https://www.ukeventlife.co.uk/event-details/24/Tour_23
————————————————————————
https://www.ticketmaster.co.uk/vijay-yesudas-shweta-mohan-haricharan-bennet-london-05-11-2023/event/36005F01D2FD264E
———————————————————————–
https://troxy.co.uk/event/vijay-yesudas-shweta-mohan-haricharan-bennet-and-the-band/
———————————————————————-
https://www.ticketmaster.co.uk/vijay-yesudas-shweta-mohan-harricharan-birmingham-04-11-2023/event/1F005F0E9B403C0D?brand=theatresonline&irgwc=1&awtrc=&camefrom=CFC_BUYAT_1299588&ircid=7559